Note: As of July 1, 2010 the total donations = $1,231
Message from Brenda Hoffman:
I don't know how many of you remember some of the stories Gary has posted about the poverty of the Philippines, but one of his posts (or was it a personal communication?) struck a cord. I was in the midst of the usual frantic Christmas preparations when he wrote that most kids in the PI don't get Christmas gifts - their families barely have enough money for fireworks. Additional info from Gary indicated that many of the PI children are starving or malnourished. I asked Gary how I could send some money to a family with small children and he and I set up the following system:
I sent Gary a check at: Gary Stokes, PSC 517 Box RS/CC, FPO AP 96517-1000
Gary transferred my check into PI currency
Gary and Bernadette purchased food with the money and delivered it to the family in the pictures pasted below.
In the last few years, I have been hesitant to donate money to charities because I'm never certain that the dollars I donate will be used to help the people I want to help - I would rather volunteer my services. Gary altered that picture for me. He and Bernadette make sure that the children receive the food.
A bag of rice costs $14 for 25KG; $28 for 50KG. A $28 bag of rice will probably last a family of 8 for a month. Rice is the staple of all of their meals.
Most families have no stove to cook on so they set a pot on stones and cook with wood.
My thought was that anyone who might be interested in helping feed a family - particularly one with small children - might send Gary $5, $10 or whatever amount. And maybe, just maybe, those of us from the Dunseith area could sponsor one family or even a few families. Bernadette's sister works in social services in the PI and could help us target the poorest of the poor. The family I helped lives right behind Gary.
Gary added that he would make sure that contributors would get recognition at the Barangay level - the first level of government in the PI and of course receipts, etc to be used for US income tax purposes.
Brenda
Gary's reply and comments:

Folks, Brenda did send me a check of which I cashed and exchanged for Peso's. With Brenda's donation Bernadette and I purchased Rice and food and gave it to this family, pictured below. 100% of the money she sent was used to buy food for this family. This family was so happy and elated to receive this donation. They are a family of 8 that live in a 5' X 7' house. They, like so many families in this country, often go without meals, for lack of food. There is no welfare in this country.

With Brenda's suggestion, we would like to help more of these folks. Bernadette and I are willing to purchase food and give to the needy families in our area with the donations sent. 100% of your money will be used to buy food or requested items for these folks. I will keep an updated listing posted on this Website of the total moneys collected and how they were spent with pictures and listings of the recipient families. Individual donations will not be listed separately. We feel individual donations should remain silent. For United States Income Tax rules, we will keep detailed records, of individual contributions, of all moneys collected and where they were spent.

Please see pictures of some of the needy families on the next tab of this site that we will be giving our donations too. If you'd like to help a specific family, please let us know with your donation. If you have specific requests for your donation, please let us know that too.

I have a United States FPO address that you can mail your donations too. A regular US postage stamp is all that is required. The Mailing address is

Gary Stokes

PSC 517 BOX RS/CC

FPO AP 96517-1000

I will reply to each and every donation with an email message that we have received the donation. For those I do not have an email address for, we will make a personal phone call letting them know their donation has been received.

Thank you Brenda for your inspiration in seeing this thru. I am always amazed with how happy go lucky these folks are that have virtually nothing. These folks are always so very friendly and more often than not have a smile on their face.
Gary's message to Brenda with pictures of the Family receiving their donation from her.
----- Original Message -----
Sent: Thursday, January 14, 2010 11:31 PM
Subject: Pictures
It was raining at noon today. When we waited for the rain to stop, two of this families children had already gone back to school. This family was very happy to get your donation. This family often times goes without meals because their is no food in the house. The pop belly on the little girl in the second picture is evidence of malnutrition.
When we built our garage across the street from this family, back in 2004, folks could not believe that we built a house for our car and with an automatic door opener to boot.
Thanks again Brenda for doing this. You for sure made this families day.
Their house is the one with the open door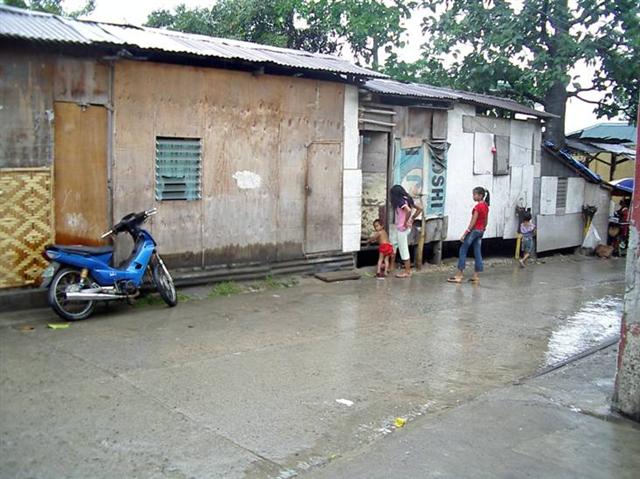 Mother with 4 of their six children: - Note the malnourished pop belly on girl in front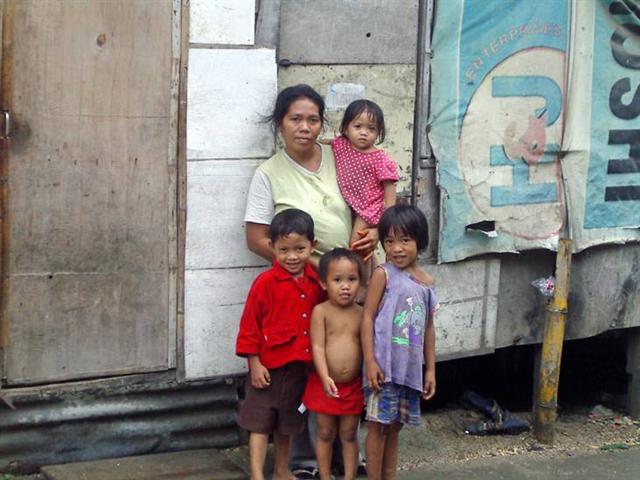 Two of their children are missing in this picture. Groceries are in the back of our car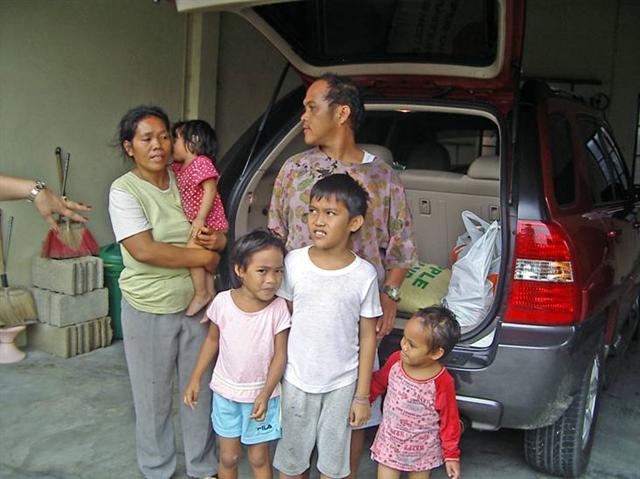 The family taking the groceries from our car across the street to their house.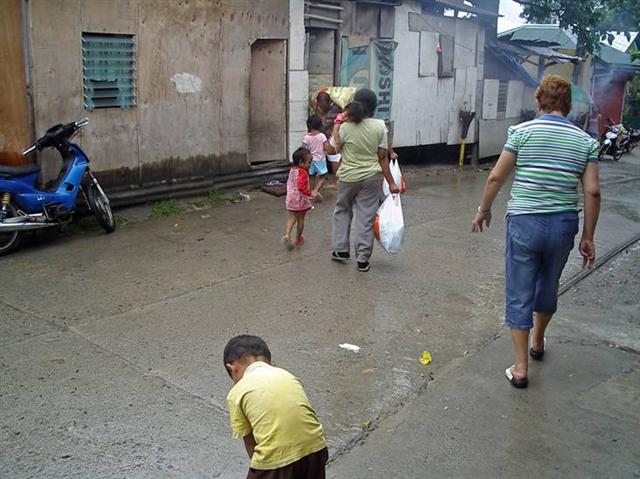 Still missing two kids that are in school. Their house is as wide as where the blue covering ends to the right of the door. The Fathers parents live in the house on the left. That is his mother going into her house.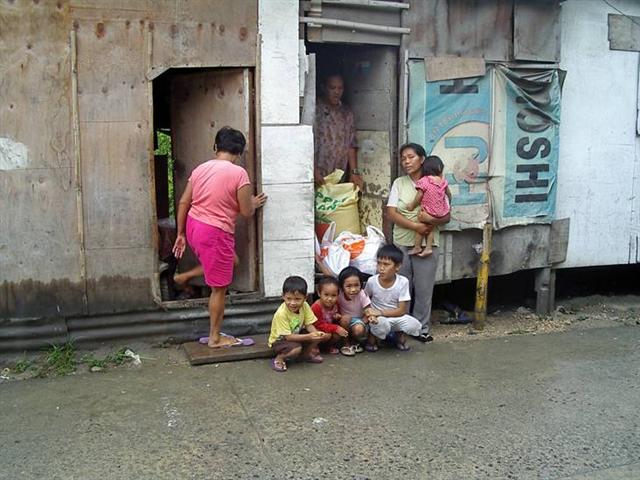 The entrance to their house with bamboo flooring.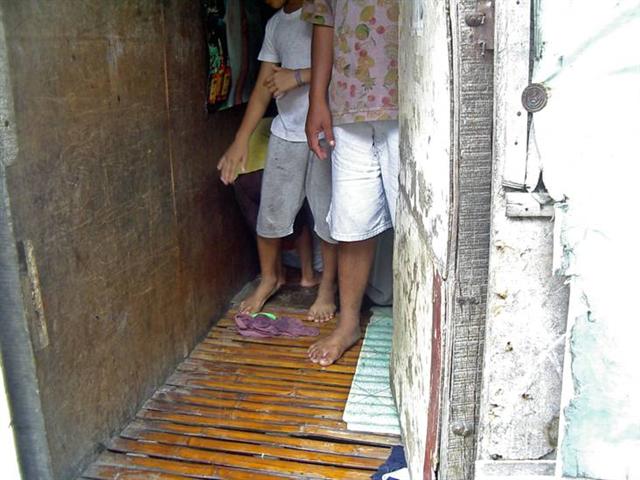 Inside their house. Their house is so small, it was very difficult to get a good picture. I was standing in the door opening taking this picture. Their house is about 5' X 7'. With six kids and the parents, they are a family of 8. I'm not sure where they all sleep, but they manage.